Why Choose Natural Stone?
Overview
Natural stone is sometimes wrongly considered as a delicate and fragile material to be avoided if children are playing on bikes in the yard or you need to use the area for vehicles. It may come as a surprise, but the natural stone we offer is often up to 10x the strength of concrete pavers!
Like all good quality building materials, paving is tested against specific criteria to ensure it is robust enough to use for the purpose in which it is intended.
These test results show natural stone to be significantly better than concrete and other stone products on all test data.
The chart below shows two of the key indicators of a quality paving material - water absorption and flexural strength.
Water Absorption
The lower the water absorption, the lower the risk of algae growth and staining. Natural stone averages at less than 2%. By comparison, concrete paving has an average water absorption of 6%
Flexural Strength
The flexural strength value shows how much bending stress a paving unit can be put under before it breaks and the higher the number, the stronger the paving. Natural stone paving averages at around 25 Mpa Mean flexural strength. By comparison, concrete paving has an average flexural strength of 5 Mpa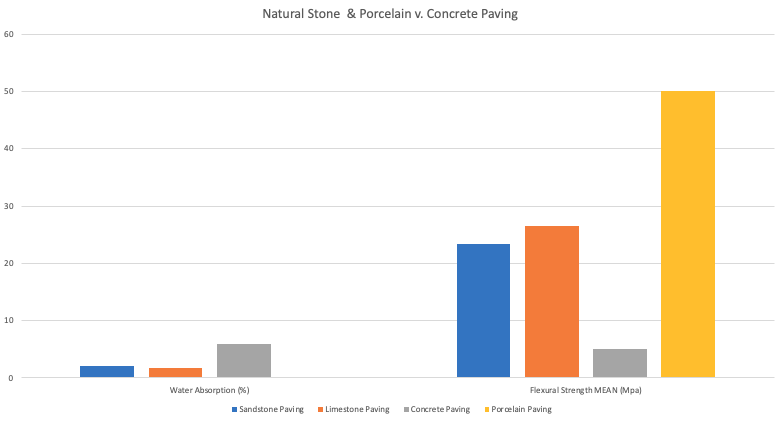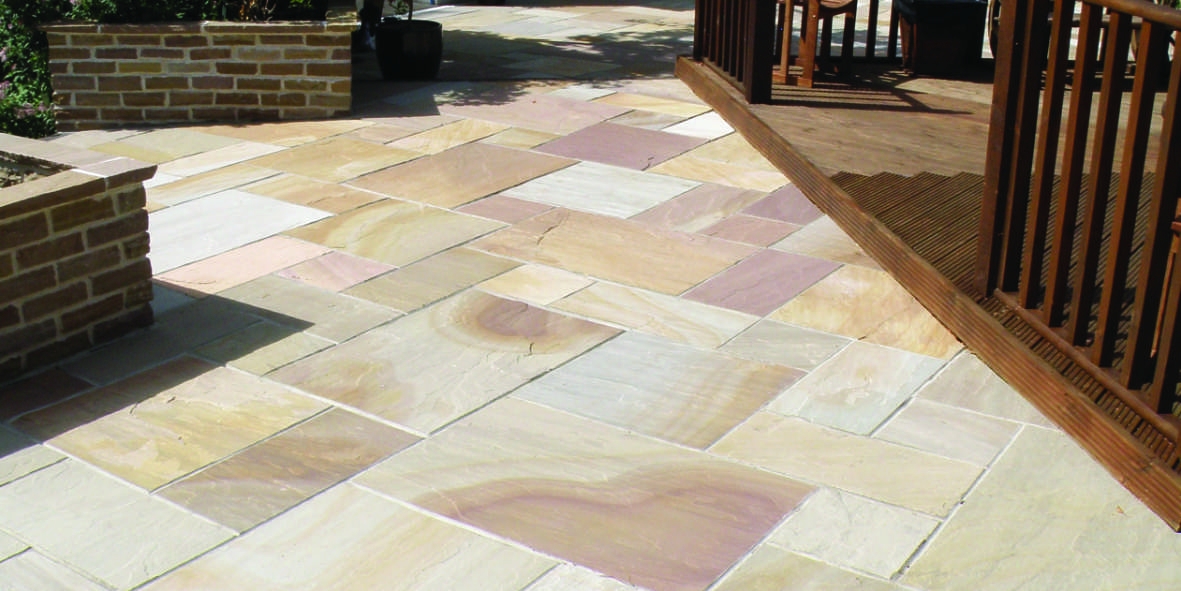 Image shows Natural Paving's Harvest paving in a mixed size project pack
What makes natural stone the best
alternative to concrete?
Natural Paving's hardscape products present homeowners with the ultimate in durability and beauty with:
A vast choice of ethically sourced, luxury paving options
Pre-cut and packaged packs of natural stone in a gauged thickness for ease of handling and project planning
Quicker and cheaper installation
A choice of installation techniques including set in mortar, thin-set or sand set
Long lasting and low-maintenance solution
Competitive pricing when compared to concrete and native stone alternatives.
These credentials make natural stone the best choice over concrete.
Other points
to consider
Natural stone is more attractive than concrete
Each piece of natural stone is a unique piece of nature with its original color and tone which makes your garden and driveway completely individual.
Concrete on the other hand, comes in a regulated, artificially produced mono-color slab where all pieces are identical and comparatively characterless. 
Natural stone is more durable than concrete
Natural stone is a durable and hardwearing, frost resistant paving material tested to extremes of temperature to ensure it will not crack.
Natural stone does not wear to expose aggregates like concrete does
Natural stone paving is easier to maintain than concrete paving equivalents
Concrete requires ongoing maintenance and as it is prone to fading, requires periodic repainting
Natural stone simply requires cleaning to being it back to its true colors
Natural stone is simple to install
Natural stone paving may be installed using the same techniques as regular concrete paving
Does not require cutting to size or the careful positioning needed with other stone products
Natural stone is a better investment than concrete paving equivalents
Using natural stone materials will add greater value to your property
Natural stone will not necessarily cost more than concrete
Natural Paving's stone hardscape products are more sustainable and environmentally friendly than concrete paving equivalents
Natural stone is the most sustainable building material as resources on the earth are vast, plentiful and  data back billions of years. Although the regeneration of stone is not as readily available as the regeneration of trees, it is a continuous process with natural stone having an enduring lifecycle. 
Natural stone is exactly that, natural, meaning that our stone products have not been manufactured to the degree that concrete products are. 
As a natural product, stone products are recyclable and can be used as reclaimed paving or crushed for aggregates